A powerful way to build brand awareness
Cohoist runs shared advertising campaigns for groups of 4 to 8 online businesses at the same time so you can reach 4x to 8x more people for a lot less money.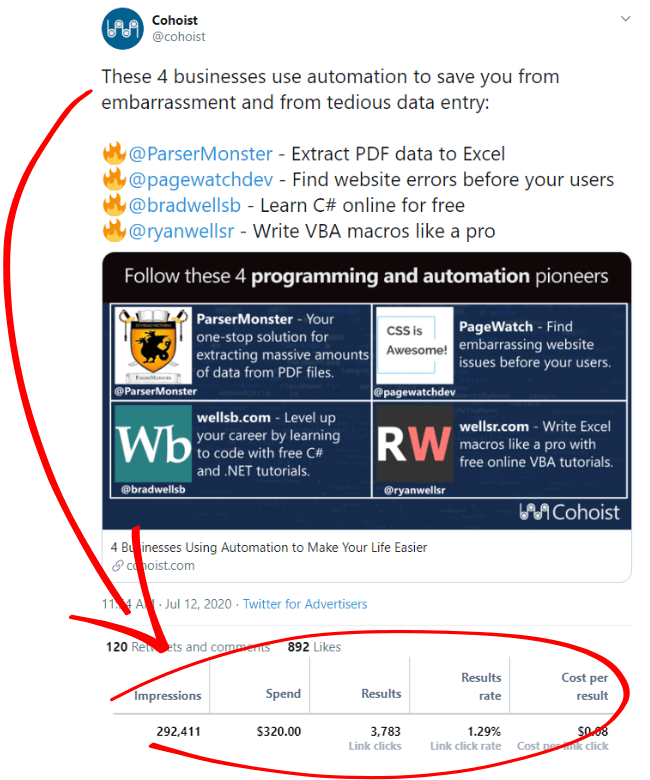 ---
Did you know most ad platforms only charge for the first action taken by a customer? This allows shared ad campaigns to drive down your cost per action while combining funds helps drive up the number of customers you reach.
Ryan and Bradley Wells
Co-founders of Cohoist
What is this?
Cohoist gets your brand in front of more people for less money by promoting businesses together. Memberships range from $50/mo to $120/mo and are pooled together to reduce the cost of advertising for each business.
By promoting multiple businesses at once, Cohoist can get your website in front of a lot more people for the same cost. Collective promotion brings the overall cost of building brand recognition WAY down.
How does it work?
Once you join, you build a business profile with info about your business, links, logos and social media accounts. We use your profile to match your business with other similar businesses.
We create a central hub using the data from your business profile for you and the other businesses in your group. By combining your funds with the funds from the other businesses, we're able to launch powerful brand awareness campaigns.
You put in $80/mo and you earn up to $640/mo of ad exposure.
This formula is perfect for rapidly building your name recognition for much less money.
By promoting and linking to multiple businesses in each search, display and social media campaign, you get your name in front of more of your target audience for a small piece of what you'd pay to promote your site yourself.