Cohoist Success Stories
Your adspend will go a lot further if others match it. That's how these businesses grew their brand without breaking the bank.
Twitter Clicks Campaign
Cohoist put out a single Promoted Tweet that advertised four related companies. After stating the general problem that these companies solved, they tagged each one with a few words about their individual offerings, and linked to a shared landing page. Each company spent $80 for a total combined adspend of $320. Here's what happened:
292,411 impressions
9,710 engagements
3,783 link clicks
892 likes
120 Retweets
Each business gained about 40 followers
They also saw increases in their sales, with one member getting a 46% boost, resulting in a 67.5% return on his investment.
Combining funds like this helped each business get their brand in front of 4x more people than they would have been able to if they only bought $80 in ads for themselves. It's a powerful way to build brand awareness and increase name recognition.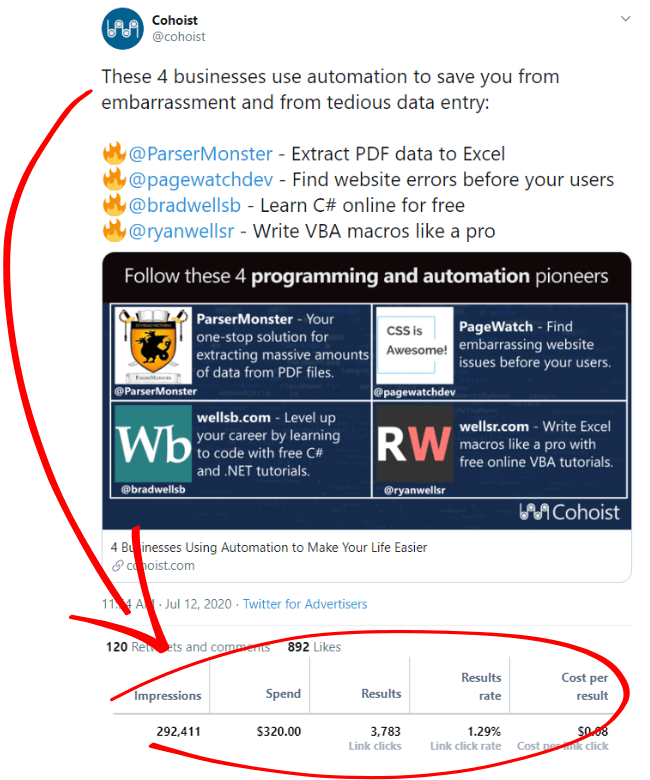 ---
Twitter Followers Campaign
As a proof of concept for digital advertising experts, Cohoist self-funded a small campaign simulating what would happen if we promoted 8 businesses in one tweet with the purpose of helping those businesses gain followers. Here's what happened:
Twitter only charges for the 1st action a user takes
$21.75 spent
19,635 impressions
814 total engagements
232 followers (Each tagged follower earned about 25 new followers)
1.81% follow rate
$0.09 cost per follow
The fact that Twitter only charges for the 1st action is the big takeaway. This is a huge advantage for shared ads! Since engaged users take more than one action, members get the benefit of multiple engagements while their ad is only charged once. This makes shared advertising highly scalable.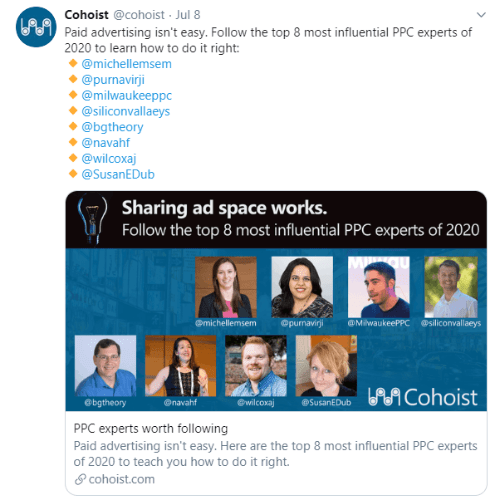 ---
For every dollar you put in, you get $4 to $8 in advertising with shared advertising campaigns
Shared advertising is how you get your brand in front of 292k engaged users for 1/4 the cost. Tagging multiple businesses in a paid ad is unconventional so it slips around their natural ad blindness.
Shared advertising is how you earn engaged followers for less than $0.10 per follower. It lets you reach more people and feed more followers into your sales funnel.
We run new shared ad experiments like these each month. To get your business included in our next shared ad campaign, join us.
Join Cohoist